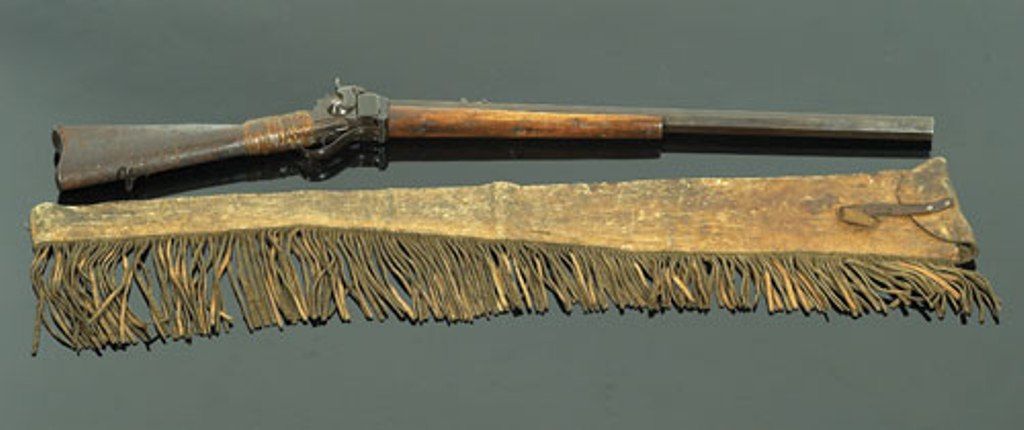 M1874 sporting rifle, SN C53221, with 30.25" octagonal barrel, marked on top Sharps Rifle Manufg Co./Hartford, Conn. and near breech Caliber 50 30, with inset steel and nickel standing front and flip-up rear sights, with walnut stock and forearm, with rear swivel and steel butt plate. Right side of frame stamped R.S. Lawrence Patent/April 12th 1859 and C. Sharps Pat. /Oct 5th 1852 behind hammer. Total length 47". A hard-used gun, with great polish and patina, with a period rawhide repair at wrist and period replaced forestock and single trigger mechanism. Includes a fine, period two-piece hand-sewn leather scabbard with 4" long fringe down one side and replaced leather strap closure at top; 48" long; still quite supple.
This rifle is accompanied by an October, 2004 letter from the Sharps Rifle Company archives letterhead, indicating that it was originally invoiced on October 25, 1872 to Mr. R.W. Snyder of Buffalo, Kansas. The rifle is described as being .50 caliber, using the 2.5" shell, with a 30" full octagon barrel, double triggers, open sights and oil-finished stocks. Along with the rifle went 700 loaded cartridges. The total bill -- less discounts -- was $94.27.
Snyder is known to Sharps historians for his three testimonial letters written to Sharps in 1870, '71 and '72 and later printed in their 1875 catalog. Each of these letters praises the Sharps and their prowess in killing buffalo. One, penned in mid-December 1872 -- less than two months after receiving the Sharps offered here -- is worth quoting: The man that I sold my old 44 to killed 119 buffalo in one day with it. That beats my big 50, as 93 is the most I have ever killed in one day.
Snyder's role as a hunter is not entirely known, but the Sharps business records indicate that during a three year period between 1871-73, he ordered no less than 10 rifles and a quantity of ammunition and reloading supplies. Richard Labowskie, owner of the original Sharps archives, curates several of Snyder's letters. In one he orders three carbines for resale, forwards an order from another party, and tries to interest the president of Sharps in taking buffalo hides for payment (Personal communication, October 19,2004). Whatever Snyder's true role, it is clear that this rifle was used in one of the most celebrated periods on the Plains. A great rifle with terrific history.
Ex James Dresslar Collection