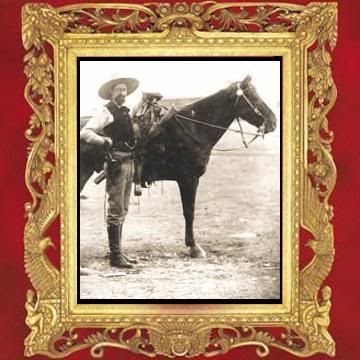 William J.L. Sullivan, Texas Ranger
Sullivan was the most feared Texas Ranger in the history of the State
In his book, Twelve Years in the Saddle, W.J.L. Sullivan
recounted his ancestry:
"My father, Tom Sullivan, was born and raised at No. 99 Broome Street, New York City, where he engaged in business as a master mechanic. My grandfather, John Sullivan, was born in Ireland. He and my grandmother moved to New York City and settled on Broome Street, where my father, who was an only child, was born. My grandfather was a Mason by order and also by occupation. My father went to Perry County, Alabama, and met and married my mother, Summer McFarlen, and they moved to Winston County, Mississippi, where my father engaged in farming until his death."
William J.L. Sullivan was born on July 10, 1851, seventy-nine days after his father's death. His mother remarried and moved the family to Arkansas. His mother died when he was eight years old and his step-father married another woman. In 1861 William's stepfather was killed, fighting for the Confederacy. William and his brother Jim were left in the care of their stepfather's stepfather. "Old Man Jeams" was a cruel tyrant who beat the children mercilessly. Eventually the two boys escaped this hell and joined the Confederate Army. The soldiers knew that the boys had been abused and welcomed them into their camp. Thus started the path that would lead William J.L. Sullivan to eventually become a Texas Ranger.
A review of Ranger Sullivan's career was written in the Amarillo Northwest Newspaper:
Ex-Ranger Sergeant W.J.L. Sullivan (better known as "John L.") is rapidly improving from the recent accident which occurred at his ranch north of town some two months ago. As a full account was given in these columns at the time, it is not necessary to refer to it again.
Sullivan's first experience as a Ranger was in 1888, under Captain McMurray, who was then commanding Company B of the State Ranger Force. Since that time Sullivan has been a terror to lawbreakers of the State and has succeeded in running down more criminals than any other Ranger ever in the service, before or since.
Eminently possessed of those sturdy qualities which go to make up a successful executive officer, Sullivan has justly earned a distinction as broad as that State, which he so faithfully served.
Quiet and always sober, he stood when in the service without a peer in the State as an executive officer. He made some enemies, it is true, but so has every other officer who has discharged his duty as honestly and as fearlessly as he did. It is not necessary to enumerate numerous scouts and various expeditions led and the important captures made, as they are a part of the criminal annals of the State. Wish you an immediate recovery John L., and may you live many years to rest on the laurels you have so justly won.