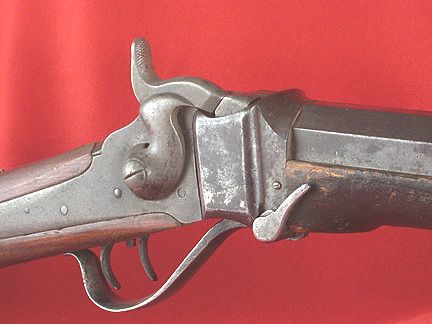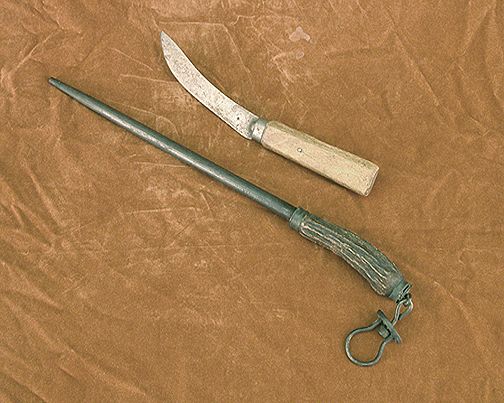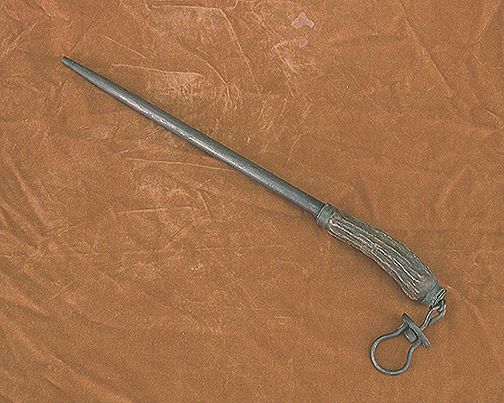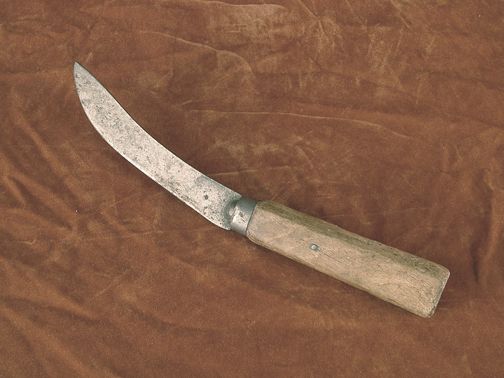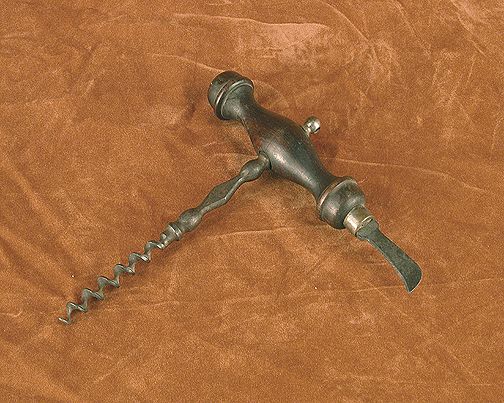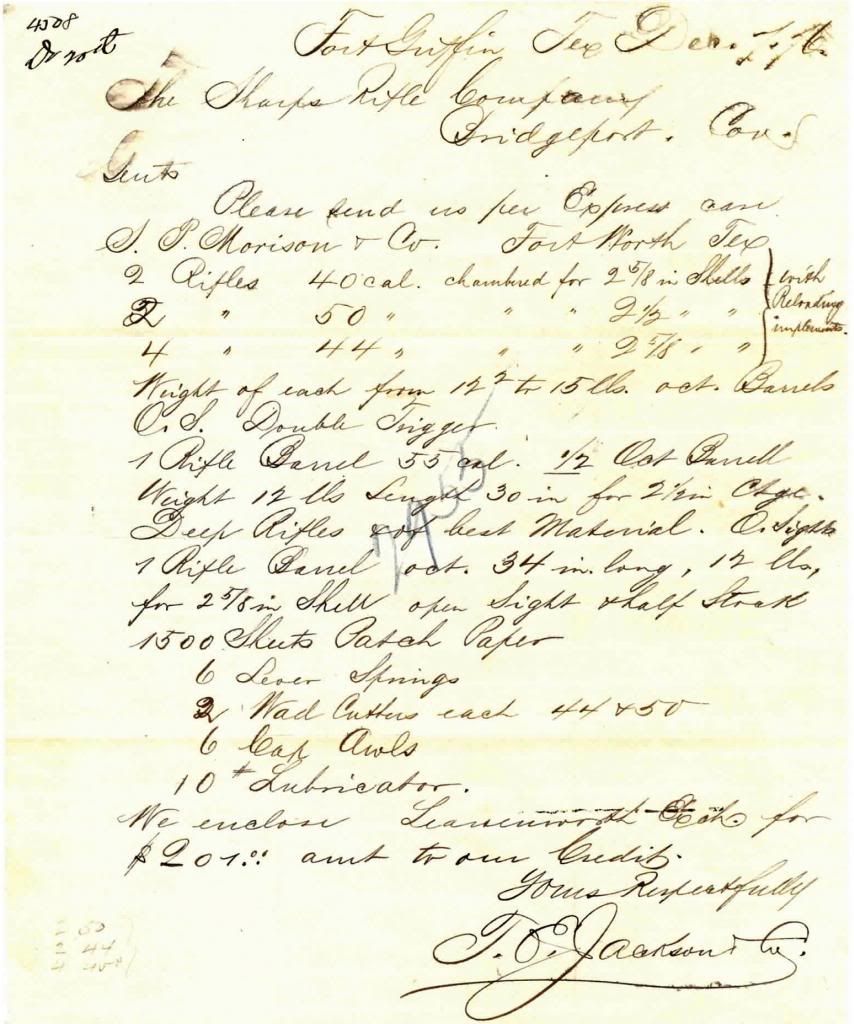 Order Letter: December 7, 1876 letter from T. E. Jackson placing order for Mooar's rifle and other associated equipment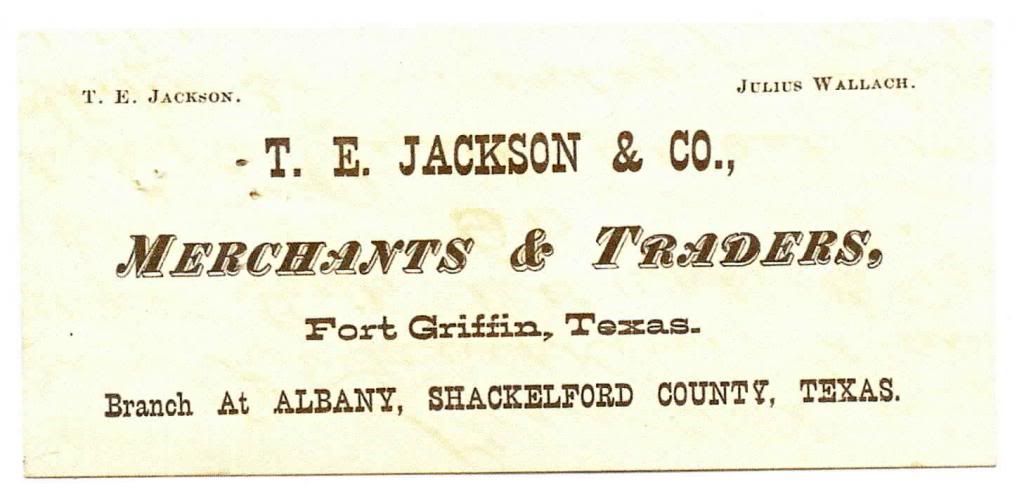 Business card of T. E. Jackson, Fort Griffin, Texas.: Julius Wallach was the business partner who later embezzled funds from Jackson's company.
John Wesley Mooar Buffalo Gun and Camping Tools
This Sharps sporting rifle, caliber .40-90 (ser. #159765), is one of our best documented items in the collection. It belonged to John Wesley Mooar, hunter, freighter, hide merchant and well educated businessman. In 1870, while living in New York his brother, J. Wright Mooar, shipped him a load of buffalo hides and asked him to find a market. Wesley, as he was known, passed them on to a business associate who, in turn sold them to a Pennsylvania tannery, which then placed an order for 2000 more. John Wesley Mooar moved to Dodge City, and, with his brother as equal partner by 1872 had established a base from which to operate a buffalo hide marketing business, while hunting and freighting hides and supplies.
The Mooar brothers are credited with helping initiate the great commercial buffalo hide harvest on the plains, first in Kansas, then Texas, and finally Montana in the early 1880s. By 1884, commercial hide hunting had depleted the herds, effectively ending large-scale buffalo hunting for good.
Mooar used this rifle during his buffalo hunts on the plains of West Texas in the last half of the 1870s. The rifle itself appears to have been restocked, however, the walnut forearm is original. All parts are in good working order and the firearm is fully operational.
This Sharps rifle was purchased in 1877 by Mooar from T. E. Jackson & Co., a Fort Griffin, Texas firearms and general merchandise dealer. Jackson ordered eight rifles from the Sharps Rifle Co. in Bridgeport, Connecticut in a letter dated December 7, 1876. Besides the .40-90 (2 5/8 shell chambering) he also ordered an additional .40 caliber rifle, two rifles in .44 caliber, and four in .50 caliber.
According to official Sharps records, the Mooar rifle was invoiced at the Bridgeport factory on January 12, 1877, and shipped on that date. Presumably, the others in the order went out in the same shipment. Jackson also ordered reloading tools, patch paper and two rifle barrels. The rifles arrived sometime in late January or early February of 1877 at Jackson's store at Fort Griffin, where Mooar received and paid for them.
Jackson's store later went out of business after his partner Julius Wallach embezzled funds from the enterprise. Consequently, he was not open long enough to sell as many rifles as did his competitors like Fort Griffin's Frank Conrad. The Jackson connection makes this rifle all the more special because there are less than a dozen such rifles attributed to Jackson's store. This Sharps is one of them. The rifle was donated to the Museum by Mooar's daughter in 1955.
John Wesley Mooar's butcher's sharpening steel was among other Mooar family items which accompanied the donation of the rifle. Butcher's steels were commonplace on the buffalo range where skinning an animal cleanly was all-important to both the quality of the hide and the efficiency of the skinning process.
The combination corkscrew and bottle opener was used by the Mooar brothers while in camp on the Texas buffalo range. In the bottling process, beverage bottles were usually capped or corked, then sealed with lead foil. The foil had to be cut off before the bottle could be opened. The lead was sometimes saved and melted with bulk lead, and made into bullets.
The skinning knife was a common tool on the Texas buffalo range. The curved blade as designed for ease of cutting the skin away from the flesh without causing damage to the skin itself. The blades typically became narrower over time from repeated sharpening on grindstones and butcher's steels. Buffalo hunters kept many skinning knives on hand. The knife shown is not from the Mooar collection, but typifies the style and shape of the classic skinning knife.