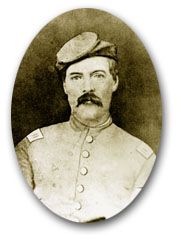 CPT Allison J. Pliley
2LT - 15th Kansas Volunteer Cavalry - Civil War
Scout - 18th Kansas Volunteer Cavalry - Indian Wars
Scout - Forsyth's Scouts - Indian Wars
CPT - 19th Kansas Volunteer Cavalry - Indian Wars
CPT - 2nd Frontier Battalion - Indian Wars
One of Kansas' greatest soldiers. Capt. Pliley was born in Ross County, Ohio in 1844. His family moved to Kansas around 1856, however, Pliley didn't began his service in Kansas military forces until September 16, 1863, when he enlisted in F Company, 15th Kansas Volunteer Cavalry. During the Civil War, he progressed through the ranks serving as a corporal, 1st sergeant, and second lieutenant and participating in engagements in Missouri and Kansas against the forces of Confederate Major General Sterling Price.
He was discharged from service on July 31, 1865 and returned to civilian life in rural Topeka, where he began the study of law, but was interrupted by additional service to Kansas in 1867. Due to numerous reports of theft, murder, **** and kidnapping of settlers by Indian warriors, Governor Crawford called for volunteers which resulted in the formation of the 18th Kansas Volunteer Cavalry. Pliley worked as a civilian scout for this unit, and despite his civilian capacity, was lauded by witnesses for his leadership which included commanding units. Although being shot twice during the Battle of Prairie Dog Creek, he continued fighting and rallying troops, and later, made an incredibly brave dash, by himself, in the face of several hundred Indians for help.
Not long after his services were complete with the 18th Kansas, Pliley joined Forsyth's Scouts and was involved in the bloody Battle of Beecher's Island, where 50 scouts held off 1,000 Indian warriors over a nine day battle. Pliley was one of four men who were able to sneek through enemy lines and travel 73 miles on foot to Ft. Wallace, Kan., to arrange a rescue. Ironically, the commander of the troops who rode out to the battle, which was winding down by the time he arrived, later received the Medal of Honor. None of the four men who volunteered for the extremely dangerous mission and saved the unit, including Pliley, received the medal.
Following his service with Forsyth's Scout's, Pliley was commissioned a captain by the governor and was given command of Company A of the 19th Kansas Volunteer Cavalry. When the entire unit became lost during a tremendous blizzard, Pliley lead a group of soldiers through the blizzard at night for help. He personally found help, and the unit was saved from starvation and freezing to death. He served in this capacity from October 20, 1868 until April 18, 1869, and was consistently being chosen to lead scouting and rescue details.
After serving with the 19th Kansas, Pliley was selected to command Company A, 2nd Frontier Battalion, which had been formed after Indians raided several settler's homes near Lincoln, Kan. There, Pliley commanded over 80 men and 90 horses at the camp which eventually became known as Camp Pliley. Although no major battles occured, the Indian hostilities in the area ceased while Camp Pliley was active.
Pliley eventually settled down and got married on July 30, 1871 to Martha "Mattie" L. Young. For several years he successfully worked in a variety of jobs, including laborer for hire and painter. Eventually, however, the call of adventure got the best of him and in 1876, he sent a letter to Gen. Custer, who he had served alongside during 1868 and 1869, asking him for a scouting job. When no reply came in the mail, Pliley concluded that he better forget his adventurous plans once and for all, and find other work. Later, a reply from Custer finally arrived, offering Pliley the job, but it was too late. Custer and his men had already started their mission, which would end in a little known place called Little Big Horn.
Pliley worked several different types of jobs, but eventually made a living by dredging sand for contractors in downtown Kansas City. In the winter, he would make money by cutting ice for storage. His home in Armordale, located in northern Kansas City, eventually filled with seven daughters. He aged quietly and eventually he became just another old man sitting on his porch reminiscing about his younger days.
On Feb. 22, 1917, the man who had saved the day so many times and had given so much to his country and state, died at his home in Kansas City, Kansas. He was 72 years old. Captain Pliley is buried in the Quindaro Cemetery located at 38th and Parallel, Kansas City, Kansas beside his wife,in lot 370, Section 5.
According to all accounts, Pliley was an extremely brave and modest man. A fellow soldier who had campaigned across the Plains of Kansas with Pliley, later wrote, "Mr. Pliley was one of the most effective scouts and one of the best cavalry officers of the day, but he is very modest, and never would push himself forward or toot his own horn. I know that Pliley was a tremendously prominent figure at that time...He is one of the gentlest, most unselfish and least calculating of men, simple-minded and frank, a man of great intelligence and common sense. Forty years ago courage was unnoticed -- it was taken for granted on the plains; but Pliley's courage was noticeably different from that of his fellows. He delighted in a desperate situation. He was a natural leader... Pliley always took the hard end of a job."