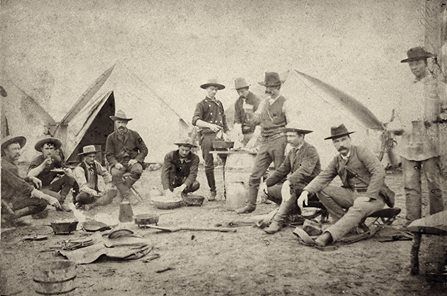 The famed Company "D" of the Texas Rangers enjoyed a meal together near Realitos in March 1888, the same company P.C. Baird had served in from 1882 to 1884.
Winchester Warrior - P.C. Baird enforces the Law on the Texas Frontier.
Written by Tom Augherton Published February 11, 2014
The Texas Rangers are arguably the most famous law enforcement agency in U.S. history, and they certainly made their mark in the Old West.
It took special men to put on a Ranger badge—"men of fiber," as historian J. Evetts Haley put it. The job was tough, sometimes boring, occasionally dangerous. It tested men to the utmost. Yet, sadly, many of the Rangers of old have been nearly forgotten by history.
One of them is Phillip Cuney "P.C." Baird, who during his time came to be known as the "Old Sleuth."
Baird was a Lone Star native, born in Travis County on March 4, 1862. At the age of 20, he joined Company "D" of the Ranger's Frontier Battalion, serving under Capt. L.P. Sieker until 1884.