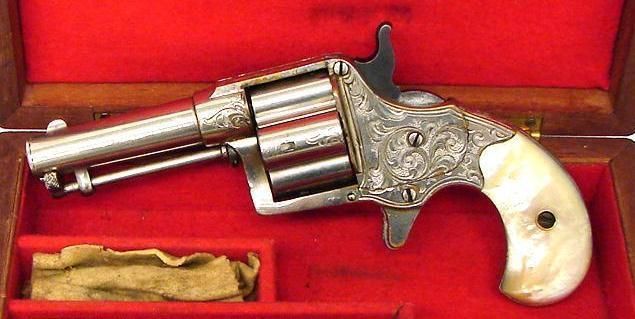 This pearl-handled mini Colt revolver is believed to have been used by Bozeman madam Louisa "Frankie" Buttner to kill a man in the 1880's. Photo Courtesy of Dia Johnson.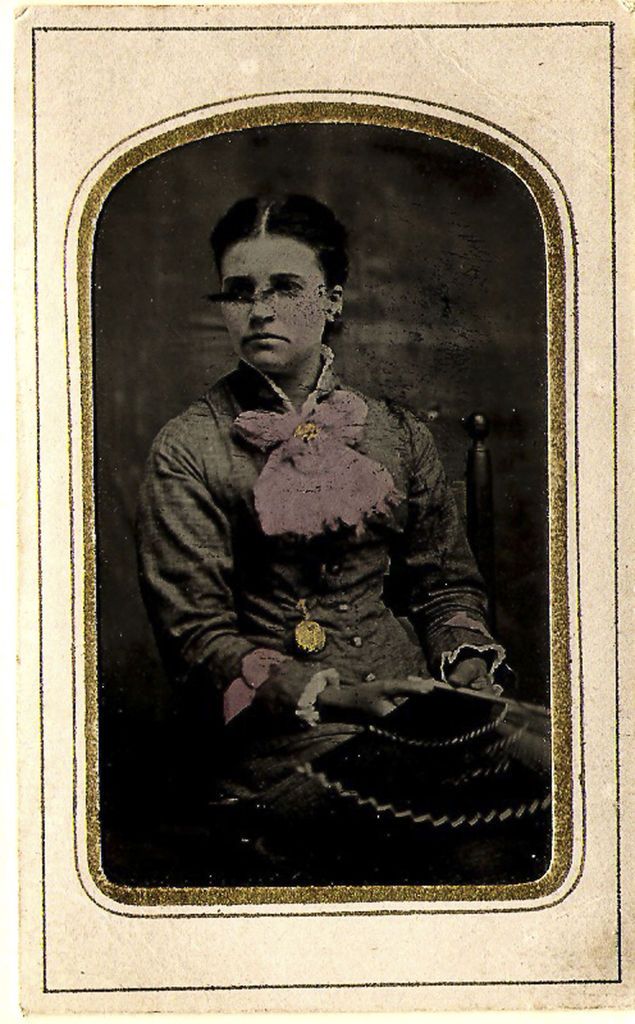 Louisa "Frankie" Buttner.
On the Trail of Bozeman's Wild West Madams
By Gail Schontzler, Chronicle Staff Writer.
Dia Johnson recalls that when she first started looking up historic records on prostitution in Bozeman's Wild West days, she got a frosty reception from one pioneer family descendant.
"'The past is past,'" the lady told her. "'Leave it alone.'"
That only sparked Johnson's curiosity and determination. In the past 15 years, she has uncovered hundreds of details about Bozeman's historic madams, each new discovery fueling her passion to learn more.
I love the mystery, the new knowledge, making it come alive again," Johnson said in an interview.
Lots of people share her fascination, judging by the packed crowd at her lecture on "Bozeman's Soiled Doves: The Red Light District" last month at the Museum of the Rockies. People had to be turned away at the door.
Johnson, 46, who works in broadcasting, is the wife of a retired police officer and started off innocently when she looked into the Bozeman Police Department's history.
Soon she came across court records with madams' and prostitutes' names and how much they paid each month in fines — money that supported the city marshal, magistrate and night watchman.
Hooked, she started researching land records, wills, marriage licenses, diaries, photos, census and genealogical records. She sleuthed in graveyards and phoned descendants to ask, nicely, if they knew much about great-grandma in Montana.
Not a single family has been surprised to hear about their ancestor's colorful past, she said. They were excited to learn more and shared family photos with her.
The madams of Bozeman made enough money to buy ranches, build houses, raise racehorses, open shops and give out loans and mortgages.
Either out of their hearts of gold or a practical desire to win social acceptance, they bought shoes, winter coats and school chalk tablets for poor children and gave books to the fledgling town library.
Discreet, refined and fashionable in public, they could be foul-mouthed and lewd in private.
Bozeman's first madam, Louisa Cousselle, also known as Big Lou, was born in England, educated in New York and headed west as a teen with a cousin. After bartending in Nevada, she moved to Missoula and Helena, and finally in 1873 to Bozeman, apparently seeing opportunity in the 9-year-old town.
Cousselle amassed a small fortune. She bought property in downtown Bozeman's Block D, bounded by Main Street and Mendenhall, Bozeman and Rouse avenues, with easy access to Bozeman Creek. The red light district centered on the half-block facing Mendenhall and on the alley. There, scantily clad women would stand in the doorways of a brick building that's still standing and call out to passing men.
Cousselle's first house of ill repute burned down and is now a vacant lot. She built the white house next door, 234 E. Mendenhall St., now a law office. It had seven bedrooms, seven sinks, seven mirrors and doves carved into the woodwork.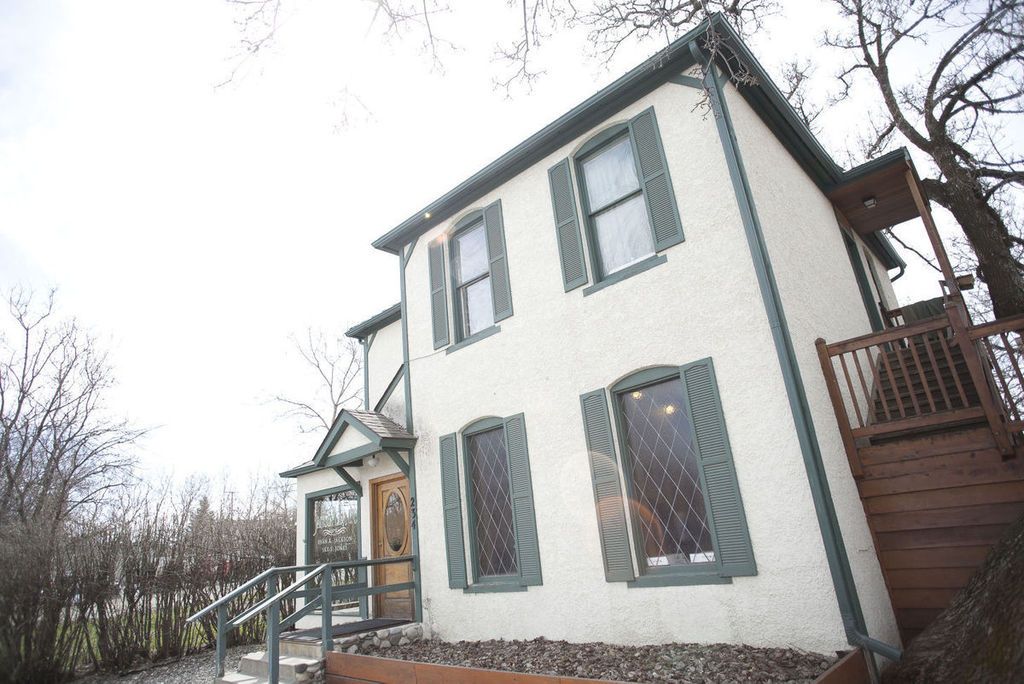 Built in 1891, the building at 234 E. Mendenhall St. operated as a brothel for almost 50 years.
CHRONICLE FILE PHOTO
She owned 160 acres that would later become the Gallatin County Fairgrounds and 320 acres near Hyalite that she may have purchased to supply timber to Bozeman. She rented a building to the city for its jail and court.
She bought a house for doctors Whitefoot and Chambliss, which served as a makeshift hospital. She sold goods to Fort Ellis, home to the soldiers who frequented her establishment.
Johnson said Cousselle also owned a millinery shop on Main Street, in the brick Hocker Building (today's Old Main Gallery). It sold fabric, gloves, hats, shoes, mirrors, furs, velvet and lace — and lots of alcohol. She mentored Kitty Warren, who turned to tricks after her husband deserted her. Warren had a millinery shop on the other side of Main Street.
Cousselle loaned out money at 2½ percent interest — 2½ percent a year to a poor family, 2½ percent a month to middle-class people and 2½ percent a day to rich men like Nelson Story. If someone didn't pay up, she didn't hesitate to sue.
On June 25, 1886, Cousselle died of "dropsy," probably poisoning from taking laudanum, mercury, opium and other addictive painkillers.
Johnson said she could find every other madams' headstone in Bozeman, but not Cousselle's. There were rumors it had been stolen. She followed Cousselle's will, which left a five-story mansion to her daughter in "East New York." Johnson started calling Brooklyn cemeteries and on the third try, found Cousselle's headstone at Green Wood Cemetery.
"Ecstatic" was how she felt, Johnson said. "It's really, really cool. The gold nugget."
While madams could be successful businesswomen, the lives of prostitutes were often fraught with tragedy. One handed her unwanted baby to a train conductor and asked him to drop the child off at the next town. Others tried homemade abortions using Chinese tinctures or crude, unsanitary implements.
All the madams carried small, ornate revolvers, Johnson said. One prominent Bozeman madam, Louisa "Frankie" Buttner, shot and killed a Chinese man by the alley brothel with her pearl-handled Colt. After a lengthy trial, Buttner was convicted and committed suicide.
In Bozeman court records from the 1880s, Johnson counted more than 600 different names of prostitutes and madams in a single year. In 1905 there were 189.
By then the frontier's tolerant attitude toward madams was shifting, largely because of the reforming zeal of the Women's Christian Temperance Union, which strove to ban both alcohol and prostitution. Bozeman's Carnegie Library was built in 1904 across the street from the red light district.
English writer George Bernard Shaw wrote a scandalous book in 1893, later a play, called "Mrs. Warren's Profession," about a brothel owner named Kitty Warren. In Warren's name and those of other characters, Johnson sees real Montana names and thinks it's no coincidence. An actress friend of Shaw's — apparently a friend of a friend of Bozeman madam Kitty Warren — visited Montana and urged Shaw to write the true story of the West.
Johnson said a line in "Mrs. Warren" sums up her feelings about the resourcefulness of the Bozeman's frontier madams.
"People are always blaming their circumstances for what they are," Shaw wrote. "I don't believe in circumstances. The people who get on in this world are the people who get up and look for the circumstances they want, and if they can't find them, make them."