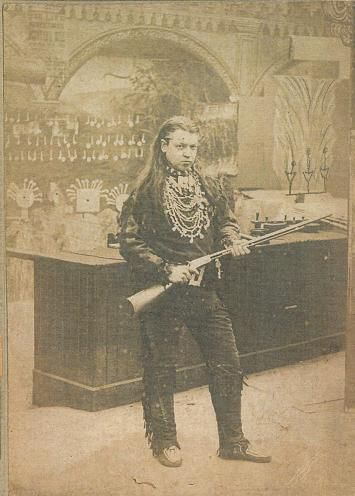 'The Renowned Indian Fighter & Canadian Scout
The Most Remarkable Marksman Living.
See him Shoot! Buffalo Bill's Righthand Man.'
(Advert for The Perth Theatre, in the
Perthshire Advertiser, 5th & 9th of June 1915)
'Montana Bill' was a Glasgow-based music hall turn and cowboy actor from the opening decades of the 20th century.
Insofar as can be determined, his real name was most probably Robert Bailey Robeson, but in the time-honoured fashion of the Western bad man, he also went by a string of aliases, among them William Bailey Robeson, William Montana, and William Montana Bailey.
A substantial part of his extraordinary life story can be pieced together from a handwritten manuscript, personalised stationery, and a number of surviving newspaper articles.
According to his own account, Montana Bill was born on the Red Rock River, Manitoba, Canada in 1855. His father was a French-Canadian land surveyor, and his mother was a daughter of the famous Lakota chief Rain in the Face.
After spending his early years among his mother's people, he served as an Indian scout to the U.S. army, and personally participated in a number of notable frontier incidents, the Battle of the Little Bighorn among them.
It is in connection with this period of his life that he frequently styled himself in his extravagant press releases as 'Buffalo Bill's right hand man in many wild adventures'.
He enlisted with Buffalo Bill's Wild West in 1886, in the capacity of Indian interpreter and trick marksman, and continued to tour with the entourage until 1892. At the end of this time, Buffalo Bill was about to return to the States, and as Montana Bill wished to stay in Great Britain, he then signed up with Mexican Joe instead. He remained in this employment until the spring of 1894, when Mexican Joe went bust - according to Montana Bill at Barnsley, South Yorkshire.
There is some photographic evidence to substantiate that, for a time at least, Montana Bill ran a small-scale outdoor 'Wild West Circus' of his own, but all the available press cuttings relate to his activities as a music hall artist.
His act consisted of theatrical demonstrations of his prowess as a rifle shot. These performances involved exhibitions of his shooting prowess, carried out with the assistance of a lady who was billed alongside him as 'Peteria, the Living Target'. Montana Bill would shoot apples and clay pipe bowls off Peteria's head, and a nut from between her fingers. He would also cut a postcard through the middle at the thin edge. At least ostensibly, he would as a matter of routine take his assistant's life in his hands several times in the course of each show.
Regarding Montana Bill's own account of his life, there are a number of doubts that remain extremely difficult to resolve.
Firstly, the various certificates of birth, death and marriage pertaining to him consistently indicate that he was born at some time between 1870 and 1874. This makes him at least fifteen years younger than he claimed to be; too young, in fact, for him to have been involved in any of the historical incidents that he held himself out as having participated in.
Nor can any independent record be found to corroborate his statements concerning his membership of Buffalo Bill's entourage. The trick shooting acts in 1891 - 92 were Annie Oakley, Johnny Baker, Claude L. Daly, and Buffalo Bill himself. No mention can be found of anyone else. Buffalo Bill's Indian interpreters during this period can also be identified without significant difficulty, but nowhere is there found any mention of Montana Bill Robeson.
In Wild West history it is notoriously difficult to separate hard fact from deliberately concocted pulp fiction. Whether Montana Bill ever rode with Buffalo Bill Cody, or merely rode on his coattails, is a question that can probably never now be definitively established. However, the preponderance of evidence, or rather the lack of it, strongly tends towards the latter conclusion.
Today, the man who called himself 'Montana Bill' has living descendents in Glasgow and Burntisland, Fife, as well as Liverpool and Syracuse, both New York State. Several of them are actively engaged in attempting to piece together the truth about the life of their extraordinary forbear.