Well.....not personally but I was in the process of buying a coach once from a builder in Wyoming. In the west, especially in the Rockies, mud wagons were the primary "coaches" used to convey people and the U.S. Mail. The "mud wagon" which was built lighter with taller wheels giving it higher ground clearance.......thus a "mud wagon". Unlike the typical "Concord Coaches" that Wells Fargo uses in their commercials, mud wagons had canvas tops and cheaper grade upholstery....usually canvas as well. Mud wagons came in three sizes with the largest carrying up to 20 people. Smallest was like a military Ambulance or Dougherty wagon. Here's an average.....middle size mud wagon.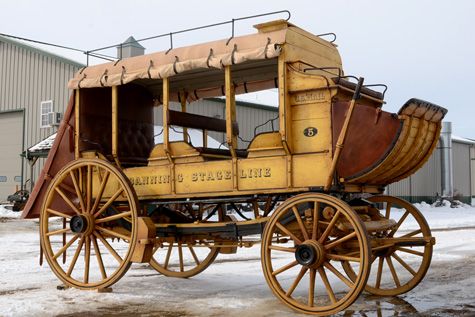 Ken Belvelle who built mine also built a "Concord Stage Coach" that Well's Fargo bought as part their "fleet". Another acquaintance of mine "Robin Wilshire" is an Aussie horse trainer living in Dubois Wy. who trains the teams used in the commercials and is actually the driver in most. There is in all the Wells Fargo banks I have been in a large wall mural of a stage coach with a black 6 up team with the Brooks Lake range of mountains behind. Robin once offered to sell me the 6 black thoroughbreds for a coach concession we tried to start in Pagosa Springs..........anyway. The Concord or fancy Abbot and Downing coaches usually seen in WF Commercials or most westerns were used more in the East of the Mississippi where the roads were better..........or to answer your question where snow and spring mud levels weren't as big an issue as in the "west".
Finally, the vast majority of the time, the "out west" mud wagons were pulled by mules. Mules being stronger with greater endurance and need less water/feed over longer distances. They are/were also more sure footed on narrow mountain wagon roads.