After a few decades away from the fur trade era, I have decided to begin creating something different. When I left the whole buckskinng thing, I ventured into the Mexican War era. Initially putting together a U.S. Mounted Rifleman impression together, I then went on to do a 1rst Dragoon impression as soon as I could acquire an original Hall carbine, as there were no reproductions available back then. Probably the "golden years" for my reenacting, I spent a great deal of money to get a period correct/documented impression together. Fortunately I had the perfect "old school" cavalry mount and was able to get a '46 Grimsley Saddle built...although an earlier model would have been more correct for Dragoons, but then most guys who were mounted due to economics were retrofitting McClellan saddles...........anyway, I lost my Grimsley and have sold off most my dragoon uniform and equipment including my Hall carbine.
Recently though I discover this picture of a painting done by Catlin, while looking for examples of leather coats.......of "Major Henry Dodge" as he was attired leading the "U.S. Mounted Ranger Battalion". It appears from later Catlin paintings of the 1834 Dragoon expedition among the Comanches, that the now "Col Dodge" is wearing the same attire. Because Ia ma decade or so older than Dodge was at the time, rather trying to copy an exact likeness of Dodge, I though to closely approximate an impression.........Here the painting:
Here are a few articles of clothing gand equipment I have gathered so far:
Coat:
Hat and sword...Catlin shows Dodge with what appears to be an infantry officers sword and not a saber as I have, although he may have switched over to an officer's model 1832 saber by '34.....so I sorta split the difference: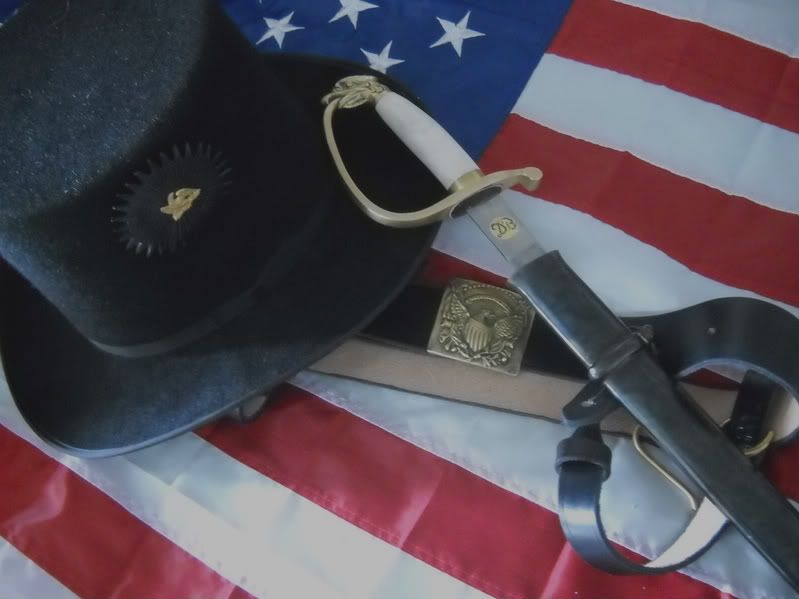 Here's the gun I chose. Catlin shows what appears to be a fairly typical half stock plains rifle.....I don't think a "typical" Hawken due to the shape of the comb....but possibly an English sporting rifle. I found this nice Pedersoli Mortimer shotgun and decided to go with it. Practically, one might think that Dodge might have switched over to a smooth bore, because of ease to hit targets at close range and ease of loading.....as was the case with how dragoons were armed.

I have my old dragoon "brogans/Jefferson boots" which Dodge appears to be wearing. Mine are the smooth out version with a more fashionable look than the later versions most of us are familiar with. I also have a pair of mounted trousers in dark blue.
Of the items I don't have yet is a brace of pistols (probably 1805 HF models and holsters. At present since I don't have a proper mount, the saddle will have to wait.