Sun Jun 19, 2016 7:00 am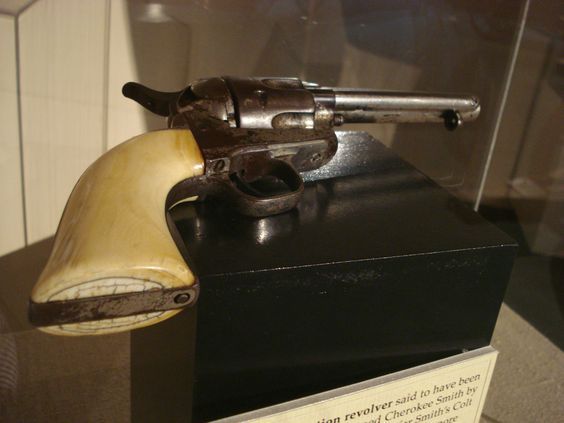 Billy the Kid's Colt Artillery Model Single Action Army Revolver.
Sun Jun 19, 2016 9:30 pm
Good find Steve.
I like those grips.

Creek
Sat Apr 15, 2017 5:33 pm
Do you happen to recall what it was chambered in?
Mon Apr 17, 2017 3:20 pm
No Sir I don't recall.

Steve
Mon Apr 17, 2017 9:49 pm
Howdy!
.45 Long Colt.
Although some say his was/is a .44-40 because he appears to be wearing just one size cartridge in his belt in the famous tin type and .45 Colt does not work in a Winchester. Others say it is not really his Colt because he is not wearing a separate belt for revolver and rifle as was common in 1881-ish and would have had a .44-40 (.44 WCF) revolver.
m
Sat Apr 22, 2017 8:14 am
Great guns and collectibles...wish they could talk.
Sun Apr 23, 2017 9:14 pm
Howdy!
They only speak one word... BANG!
m
Tue May 02, 2017 10:41 am
How bout..."click..click..click.....click"?