Gotcha.............here's the one I didn't post........this is young Lt's Alexander Hays and Ulysses Grant, taken in 1845
Arrow pointing to horn on saddle......it also shows a Shabraque "cloth cover" over the saddle common to officer model accoutrements. Looks like the "cantle" is rawhide without leather cover.....more like the Civil War '59 model McClellan.....but I'm still not sure the specifics of the '33 Grimsley model. It could be that the senior officers had leather covered models while the Jr. officers...possibly non-coms, had rawhide saddles with Shabraque coverings. Grimsley apparently wanted to put leather Shabraques on all models...much like the Spanish/Mexican/Californian Mochilla, but the Army decided against it. It appears in the other 1850 photo there isn't a cover, which is likely what the enlisted saddle always looked like the 17 years previously.
I am investigating the Shabraque on the horse Dodge is riding in Catlin's painting "Comanches meet the Dragoons" It appears to be red with gold trim and possibly gold eagles on the corners......odd since red was typically associated with the Artillery. However there is little about Dodge's clothing/weapons and possibly horse equipment that looks regulation in the painting.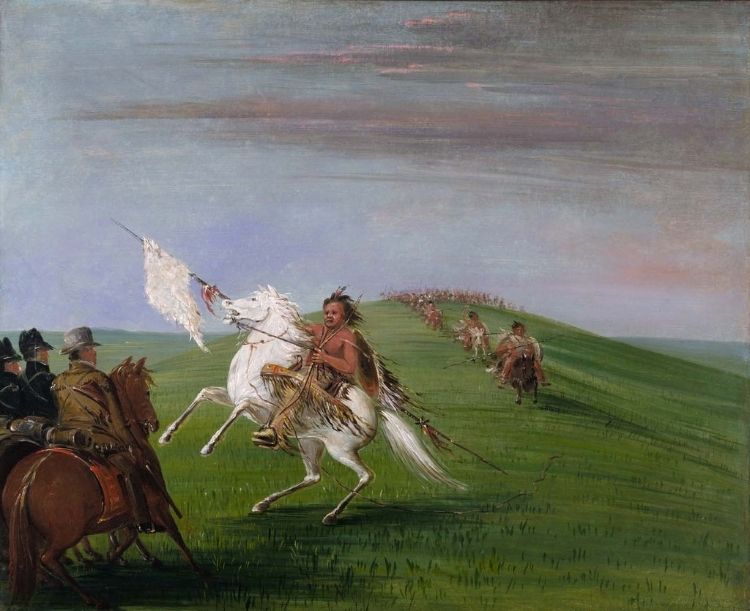 Officer's often purchased their own uniforms and equipment. It looks like Dodge chose to continue wearing the same clothing for campaign as he formally did as commander of the "US Mounted Rangers" in 1832 or as he previously had as a militia officer during the "Blackhawk War". Wearing a buckskin hunting coat, a top hat and carrying a half stocked rifle/shotgun? shows off his frontier mindset and somewhat independent spirit as the new commander of the 1rst Regt of Dragoons.